If you're here…
Then you want to know what the big deal about Sakura (cherry blossom) is, right?
Well, here are the 21+ cherry blossom facts. Take a look.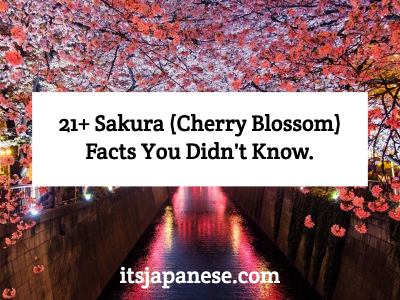 1. Sakura means Cherry Blossom
Ever hear the name "Sakura" in Japanese anime and manga? Well, Sakura is a real name too and is Japanese for cherry blossom.
So, in this cherry blossom facts guide, you will see me jump between "sakura" and "cherry blossom."
2. Flower viewing or Hanami
The Japanese have something called "Hanami," and one of the many beautiful Japanese words that the language has to offer.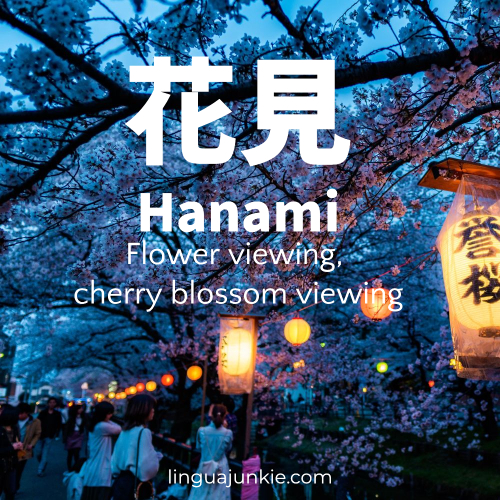 Literally, Hanami  means "flower viewing" and indeed the goal is to go out, see the flowers and enjoy the atmosphere. In reality, many people use this as an opportunity to picnic (and most importantly, booze) under the Sakura trees.
This tradition of Hanami is 1,000+ years old.
3. You can grow your own Sakura bonsai
Nowadays, it's not too hard to hop on an online store like Amazon and find  Sakura bonsai trees — real and fake. If you're going for the real thing, just be sure you're ready to take care of Bonsai and read the reviews.

4. Cool Cherry Blossom related words
If you want to learn some cool Japanese words, then check these out.
Cherry Blossom Blizzard – Hanafubuki (花吹雪)
Imagine a flurry of petals coming down with the wind. Yes, that's the cherry blossom Blizzard.
Flower Viewing  – Hanami (花見)
You already know this.
The advance of Cherry Blossoms – Sakura zensen (桜前線)
This is considered a weather event where the Japanese Meteorological Agency reports on the blooming of the flowers as they advance from the South of Japan to the North. You'll read more about this phenomenon below.
The glow of Cherry Blossoms at night – Hana akari (花明かり)
If you look at Sakura at night, it's as if the flowers are glowing in soft white light.
Night Sakura – Yozakura (夜桜)
As in, what you'd call Cherry Blossoms at night. And yes, they're a sight to behold.
hn
Cherry blossoms appearing from afar like mist.
Cherry blossom petals fallen on water resembling a raft
5. You can eat Sakura
The petals are edible and used in unique Japanese foods (like sakura mochi) and teas.
And speaking of eating…
6. You can eat and drink Cherry-blossom themed food and drinks
Japan loves creating season-related snacks, foods, and drinks. So, in Springtime, you will see sakura-flavored mochi, ice creams, teas, pastries, and much more. Or just packaging with the blossoms — like beer.
And similarly…
7. You'll find Sakura themes in Japanese shows, and music
It's part of the culture, after all. I think you'd have trouble finding an anime or a show that DOESN'T have some Sakura.
There are plenty of songs about Sakura but here are some popular ones:
A) Sakura by Ketsumeishi
B) Sakura by Ikimono Gakari
C) Honne – Someone That Loves You
(An English artist with a Japanese-themed music video.)
Now, you may be wondering why these songs seem tear-jerkingly sentimental. Well, take a look at the next point.
8. Renewal  & Transience
Heads up. One of my favorite cherry blossom facts coming up here.
Cherry blossoms kick in around early Spring (mid-March), and just like Spring, they represent new beginnings. Interestingly, the end of the school year and graduations also happen in Spring… hence the closing of one chapter and  a "new beginners" of another. Many enter the workforce and companies in the Spring and… it's also the most popular time to move into a new home.
But the whole "end of one chapter" taps into another theme that the Sakura represents.
Sakura also represents "transience," fleetingness and fragility of life too, for the flowers don't last very long. A lot of the time, the usage of sakura in media will be used to create a vibe that underscores these themes.
So, how long do they last?
9. Sakura flowers only last 1-2 weeks
The season itself is about a month, if we're looking at one part of Japan. However, the flowers on the trees last just 1 to 2 weeks. Hence, the whole "transience" theme.
10. The Cherry Blossom Advance takes 4 Months
Now, if you were to follow the flowers from south to north… that takes up to 4 months. Sakura season starts in the south (Okinawa) and slowly travels up.
Okinawan trees will start blooming in mid-January and reach their peak by February. In Tokyo, Sakura season is from mid-March to mid-April to so. And finally all the way up north in Hokkaido, Sakura start blooming around the first week of May.
11. Japan's "Unofficial" National Flower
Most people would say that the Sakura is a symbol of Japan. Well, as a symbol yes, but if we're talking about what's official, the Chrysanthemum is considered to be the national flower because it's on the Japanese passport, embassies and other diplomatic buildings.
12. 2,000 Years Old
The oldest Sakura tree in Japan is 2,000+ years old and is at the Jissoji Temple in the Yamanashi prefecture.
13. Cherry Blossom Capital of the World
Here's one of the more shocking cherry blossom facts…
Macon, Georgia, USA is the cherry blossom capital of the world with over 350,000 trees. Not Japan. And on top of it, Georgia also has the International Cherry Blossom Festival.
How can that be? Well, it's all thanks to Japan sending Sakura to the US.
14. Japan gifted Sakura to the US in 1912
In 1912, Japan sent 3,020 Sakura trees to the United States as a sign of friendship.
Prior to the 3,020+ donation, Japan actually sent 2,000~ trees to the US which unfortunately were infested with  insects and had to be destroyed.
In return, in 1915, US President Taft gifted Japan with Dogwood trees.
source: https://www.mofa.go.jp/region/n-america/us/cherry_blossom100/index.html
15. The Sakura fever started earlier than 1912
After a visit to Japan, American diplomat, Eliza Ruhamah Scidmorem, wanted to bring the cherry blossoms… way back in 1885… and have them planted along the Potomac waterfront. She persistently kept trying to persuade the U.S. Army Superintendents for the next 24 years.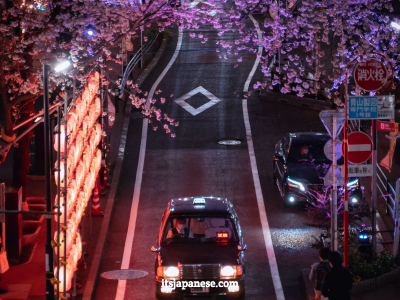 16. The US sent Sakura trees to Japan
After World War 2, the sakura trees along the Arakawa river in Tokyo went into decline. And these trees came from the same grove as the trees that were sent to the US in 1912.
In 1952, the US National Park Service sent some budwood (young branches meant for growing) from the same Arakawa-sourced trees to help store the ones in Tokyo.
17. Cherry Blossoms are in a handful of countries
Outside of Japan and the US, you can also find them in other countries like Australia, Brazil, Turkey and France.
But even though they're widespread, guess what?
18. Most Sakura trees are clones!
The Yoshino cherry was created 200+ years ago and is an artificial hybrid? Why? Well, it was  bred to have the nicest flowers. So, 75% of cherry trees in Japan are all clones of the Yoshino cherry… and have the same DNA.
19. Many types of Cherry Blossoms
While Yoshino is the most popular type… with its pale pink, almost-whitish color… there are plenty of other types of cherry blossoms. There are about 15 types of sakura native to Japan and over 300 that have been artificially cultivated.
Yamazakura – have 5 light pink petals and are mostly in the mountains of Japan
Edohigan – these guys are early bloomers that bloom with the Spring Equinox
Kikuzakura – the chrysanthemum cherry blossom with up to 130 petals
Shidarezakura – weeping cherry blossom tree
Kanzan – deep pink, up to 50 petals
Fugenzou – up to 40 petals, pink with some red
Ichiyou  – one, single petaled flower
Kanhizakura – fuchsia-colored (very pink) and can be found in Okinawa, Taiwan, Vietnam and China
Ukon – yellow in appearance
20. They don't  grow edible cherries
Some (but not all) cherry blossom trees can produce fruit. However, they're small and not exactly tasty. If you want cherries, go for a standard cherry tree.
But as a fun fact, cherry blossom trees do live longer  – up to 40+ years –  than regular Cherry trees (that make the cherries that we all like to eat,) which can range from 15 to 25 years.
21. Flood Control
In Japan, many sakura trees are planted along rivers in order to prevent the river banks from collapsing and to minimize damage during floods.
Done. Back To You!
Now you know a whole bunch of cherry blossom facts.
Which one is your favorite?
Am I missing any?
Leave a comment, like, share and subscribe!
– Team IJ