Looking for the best Japanese language podcasts?
Below is a growing list of good podcasts for learning beginner-level Japanese. All come with links so you can quickly hop over and subscribe.
So, go ahead and take a listen to some of these podcasts.
1. Japanesepod101
Strength:

Bite sized tips and vocabulary for getting better at Japanese.
New episodes come out all the time. You won't run out.
This podcast has been around since 2005, and has useful
content to help with your Japanese learning goals. It has short episodes of about 5 minutes covering Japanese learning tips, vocabulary, and more. The tips are particularly useful to stay motivated and gain some new ideas for learning the language. It's updated frequently so that you won't run out of episodes. 
2. Easy Japanese – NHK World Radio
Strength: Teaches basic grammar and vocabulary through an enjoyable story.
This podcast, made by Japan's national public broadcasting company, is perfect for beginners! Each episode is about ten minutes long and teaches basic grammar and vocabulary. To make it more engaging and relatable for listeners, the podcast follows the story of a girl who is studying Japanese in Tokyo. They also offer transcripts on their website which can be useful to improve listening comprehension.
3. Let's Learn Japanese from Small Talk
Strength: Listen to real-life conversations in Japanese about current topics.
Listening to small talk is a great way to learn casual and spoken Japanese. This podcast features natural conversations that cater towards Japanese language learners. It is also supplemented by vocabulary lists available on their website. They release new episodes weekly so that the content and topic are always fresh.
4. News in Slow Japanese
Strength: Listen to Japanese news stories at a slower speed.
For many beginners, it may be difficult to understand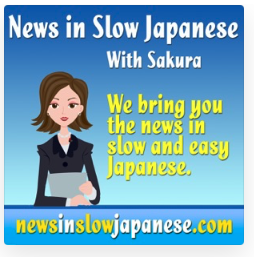 native speakers because of their talking speed. In News in Slow Japanese, the speed is slowed down so that it is easier to catch all of the words and phrases. Each episode is only about 1 to 2 minutes long and covers news stories in Japan. They provide original and translated transcripts to supplement the podcast.
5. Tofugu
Strength: Great for in-depth information on Japanese grammar, vocabulary, and culture.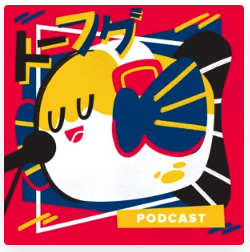 Tofugu is well known for their extensive online content about Japanese learning. Their podcast supplements their articles and it's very informative. Each episode is about an hour long and includes an in-depth conversation about a topic relating to language and culture. It is mainly in English so that beginners will have no trouble understanding them. 
7. Nihongo con Teppei
Strength: Great practice for listening to spoken Japanese with entertaining topics.
Nihongo con Teppei is a fun podcast that has short episodes about a variety of entertaining topics such as smartphones, staying positive, and even cleaning. The host, Teppei, talks in a natural way so that beginners can begin to pick up spoken Japanese. It's a good way to immerse yourself in spoken Japanese language. It could be a nice challenge to see how much of the podcast you understand each time you listen.
8. Learn Japanese with Manga Sensei
Strength: Updated frequently with easy to understand grammar lessons.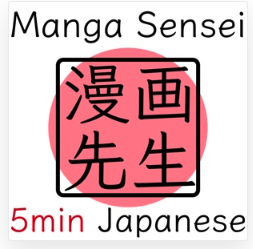 This is a great podcast if you're looking for something with a focus on grammar and tips on learning Japanese. The episodes are about 5 minutes long but it is published almost every day. It breaks down complex grammar and makes it easy to understand. There are also occasional guest interviews. 
9. Learn Japanese Pod
Strength: Fun and informal lessons with useful supplementary materials.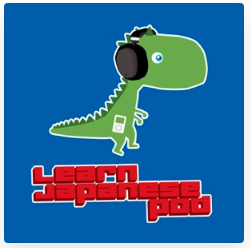 This is a casual Japanese podcast that has half hour episodes on various topics for Japanese language learning. If you're a beginner, this will teach you how to do basic things like self introductions or talking about future plans. The great thing about this podcast is that it includes podcast show notes and separate clips of the dialogue to help aid your studies. Aside from the weekly lesson episodes, they have a Fun Friday episode that talks about interesting aspects of Japanese culture. 
9. Nあ〜Casual nihongo (日本語)
Strength: Listen to a native speaker talking about trending Japanese topics.

Also, you can learn the Kansai dialect.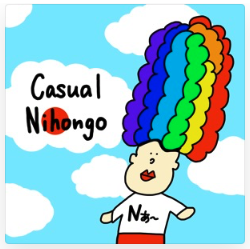 As the name suggests, this podcast focuses on casual Japanese. The host is a Japanese language speaker, who also uses the Kansai dialect. It's mostly in Japanese, but it can help beginners acclimate themselves to listening to the language and how it sounds. The topics are mostly about current Japanese culture.  
10. Azumi's Easy Japanese Small Talk
Strength: Listen to Japanese news at an easier level.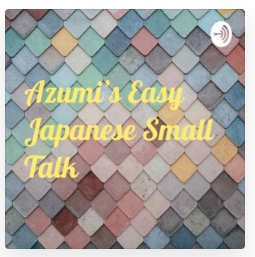 This is a podcast that talks about Japanese news. Each episode is about 20 minutes long and Azumi talks about the news at an easier Japanese level. She mainly uses simple vocabulary and grammar forms. This is great for those looking to immerse themselves in the Japanese language. 
11. Learn Japanese with Noriko
Strength: Interesting topics and helpful vocabulary lists.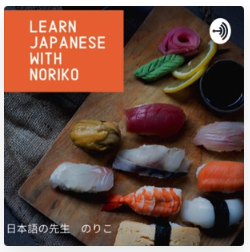 Learn Japanese with Noriko is a relatively new podcast that features interesting topics about Japanese language and occasional guests on the show. The host is a Japanese language teacher and she adds unusual vocabulary to the episode description. The vocabulary lists can help beginners to recognize the words in the episode and improve their listening skills.
12. Bilingual News
Strength: Content is easier to understand because each episode uses both Japanese and English.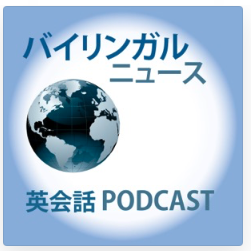 This podcast uses both Japanese and English and talks about news articles. Since it is in both languages, it's a nice way to pick up Japanese while referencing the English parts. The episodes are about 1 – 2 hours, and there are also transcriptions of the episodes available on their app. The transcriptions can help you review what was said and gain some new vocabulary.
Why Use Japanese Learning Podcasts?
The above are just a few of the best Japanese language podcasts.
But why bother with podcasts? There are many benefits to subscribing and listening.
They're free.
They offer you listening practice and you can get used to native Japanese.
You learn Japanese. However, this may not be the fastest or the most comprehensive way to do so. Either way, podcasts are a good supplementary tool.
You can consume them in your free time or while taking the train.
They keep your mind on Japanese. What's that mean? You are what you consume. Meaning, if you choose a Japanese language podcast over some non-language learning podcast, you'll be generally more interested in getting better at the language. So, even if you don't learn a whole lot, by listening in your free time, you can grow your motivation to learn.
Do you have any favorites that you'd add to this list of best Japanese language podcasts?
~ It's Japanese Team